Livres en anglais
Heartificial Empathy: Putting Heart into Business and Artificial Intelligence (Digitalproof Press Dec 2018)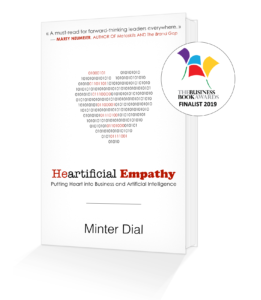 Heartificial Empathy looks at why and how brands should learn to flex their empathic muscle, as well as how to encode empathy in Artificial Intelligence.This book is for any business executive looking to accelerate his/her digital transformation, upgrade customer centricity, improve customer service, drive innovation or hike employee engagement. It explores specific business cases and the prominent ethical questions, all the while providing practical advice and concrete tips. It also contains loads of extra resources.
NEWS: I'm proud to announce that Heartificial Empathy was selected as a finalist for the Business Book Awards 2019 in the category of Embracing Change.
See more at HeartificialEmpathy.com
Futureproof: How To Get Your Business Ready For The Next Disruption by Caleb Storkey & Minter Dial (Pearson Sep 2017)
There is a lot of talk about Disruption. Everyone is looking to be the Uber of Something. What does it mean for your business to be Futureproof? How do you ensure that you're responding to the right technology? What thinking is essential when it comes to rolling your sleeves up and implementing solutions well?
Futureproof explores the three core mindsets and twelve disruptive technologies that you must have in today's age to help you grow your business, see success and get ready for the next disruption.
For more information, including many contributions from technologists, futurists and experts on the blog, see Futureproof.ly.
The Last Ring Home, A POW's Lasting Legacy of Courage, Love, and Honor in World War II by Minter Dial II (Myndset Press Nov 2016)
The Last Ring Home is the story of Lt Minter Dial's Annapolis Naval Academy ring, that miraculously made its way home 17 years after he was killed as a POW of the Japanese in WWII. The Last Ring Home is a tribute to Lt Dial, the producer's grandfather, and all members of the Greatest Generation. It is also a journey of self-discovery, having an impact on the filmmaker, his wider family and many other people in its wake. This story, which took over 25 years of research, illustrates the importance of serendipity and the role of good and bad luck in piecing together a personal history of someone who died 70 years ago. The Last Ring Home is to inspire everyone to uncover their own personal history, to keep a foot in their past and the other in the future, and to be thankful for the tremendous present in which we live, thanks to the sacrifices of the those who fought in WWII. For more information, photos and about the eponymous award-winning film.
and at these fine bookstores: